Associates in training
The Royal College of General Practitioners are here to support you throughout your GP training journey.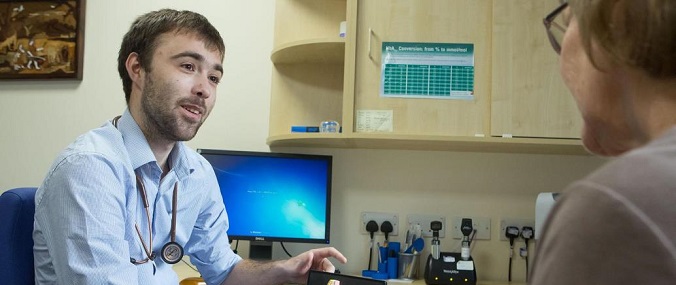 Welcome to General Practice
The new Trainee Portfolio
The RCGP has partnered with FourteenFish to bring you a brand-new portfolio this year. The new portfolio is easier to use and will save time for both trainees and trainers.
Read more about the new Trainee Portfolio
Member benefits for Trainee GPs
Associate in Training (AiT) membership is for qualified doctors who have yet to sit the MRCGP exams. We'll support you as you start your journey into general practice.
To apply for AiT membership, you need to be:
GMC registered
about to start training with an NHS Deanery
in a 3+ year training programme
Membership options
There are two options for trainee GPs who want to sit the MRCGP:
RCGP membership.
Trainee non-member package.
Both options include RCGP certification and access to the trainee portfolio FourteenFish.

Only joining as a member, however, gives you the additional benefits below.
FourteenFish
The new portfolio with FourteenFish is included in your AiT membership with the College.

Sign up as part of your membership of the College to access the portfolio, or purchase as a one-off payment to cover three years of training.
How much will my membership cost?
When you sign up for membership, you'll need to pay a one-off initial registration fee, and then an annual membership subscription. Please note your initial registration fee is based on when you sign up for membership, not when you commence training.
One-off initial registration fee: £291.00 - reduced if signing up in December, January and February.
The initial registration fee is not based on your training pathway and is a fixed price that covers the set up costs of your trainee e-portfolio and membership until the 31 March.
The membership subscription year runs from 1 April - 31 March, your membership will then be due for renewal on 1 April.
Annual membership subscription* due on 1 April every year until you complete your training.
Full time or less than full time training over 76%: £423.00.
Less than full-time (under 76%): £212.00.
Currently on maternity, parental or adoption leave: £212.00.
You can update your training status or career pathway at any time via MyRCGP account.
* Prices are subject to change with inflation.
Claim back your membership subscription
As a member, you can claim back up to 40% in tax on your initial registration fee and annual AiT membership subscription fees. Simply use the tax receipt you will receive by email after each payment. Unfortunately, we are unable to give specific tax advice, if you would like more information on this, please consult with your tax adviser or accountant and/or HMRC.
Out of Programme and maternity relief
You have the option of suspending your AiT membership subscription during maternity leave and Out of Program experience.
Please note: This also results in suspension of access to the Trainee ePortfolio, online exam booking systems and all other member benefits.
Please note: Retrospective membership suspension is not possible.
Upon returning to training, AiTs must notify the Member Services team to have their membership reinstated.
Non-Member fees
You do not have to become an AiT member of the RCGP, but you still need to gain access to the Trainee ePortfolio and obtain certification to the GMC.
Non-member one off fee: £935
This is payable by credit/debit card only and is paid in one lump sum at the beginning of training. This fee is based on training of up to 3 years.
Please note that the non-member fee is not tax deductible via HMRC.
To sign up for non-member access please contact the Member Services team.
E: membership@rcgp.org.uk
T: +44 (0)20 3188 7400
RCGP Plus
As part of your RCGP membership you can enjoy exclusive access to RCGP Plus – a wide variety of additional member benefits and offers from our selected partners for no additional membership fee.
Continue to take advantage of big student discounts after medical school. RCGP members get three years of TOTUM Pro membership for the price of two.
AiTs save 15% on Income Protection Plus, for your first five years' premiums, ensuring you are protected throughout the rest of your GP training.
Whether it's a meal out with friends, grocery shopping, buying a car or booking a holiday, RCGP Plus has a deal that could save you money.